Senior Care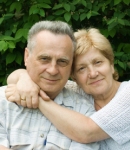 Dealing with the challenges of aging parents has become an urgent need for many families, giving rise to the term "Sandwich Generation".
Each senior has unique issues and each family is unique; therefore the best way of dealing with these issues should be tailor-made for each family. It's important to discuss the options available. This will best maximize the community and family resources for the most effective care, stimulating environment and positive atmosphere to promote wellness and pleasure in these golden years.
Adult children and the grandchildren are very strongly affected when a senior becomes ill or begins to lose independence. The family dynamics shifts to focus on supporting the senior, leaving the adult children and their families pulled and strained. Our expert counselors have years of experience dealing with seniors, the healthcare system and in creating innovations to support seniors and help families to cope.
Love has no end. At no time should anyone feel forgotten. Parents and grandparents represent the history of our families and the story of love that bonds us together. We are dedicated to assisting families in finding the most positive options to any and all challenges. We all know that: